📆 Calendario de la preventa
The SS23 adult presale took place for the first time on our new Shopify website (check it out here).
If you did not get to order your Feroz footwear, you'll have a second chance in May. We're going to upload a list of surplus stock from size changes and our safety stock.
Presale purchases: 9th -15th January 2023
Presales shipment: Jérica, Paterna and Aitana models at the end of April.
Presales shipment: Oliva and Gandía sandals in the middle of May.
Size changes: within 7 days of receiving the shoes.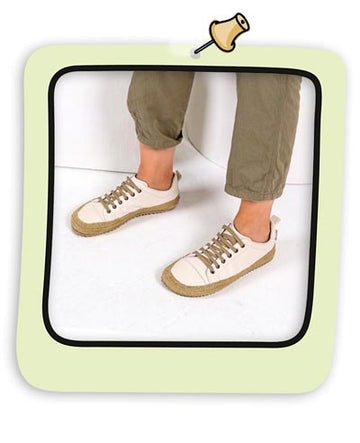 Jérica
Jérica rope €89 – Jérica combined €79
We've brought back these minimalist casual trainers, so that your feet can adapt to the feeling of walking barefoot.
Leather shoes, except for the white combined model, which are made of microfibre.
No lining, which makes them very breathable and cool, ideal for the summer months.
They are available in two models: rope and combined. The rope is resin-coated to make it more water and wear resistant.
These shoes come in a range of 9 colours: our rope model is available in coral, egg yolk yellow , pale pink, white, black and mint. And those with a white sole and toecap, white, or combined with grey or mustard.
Traditional removable insoles.
Sizes 36 to 42.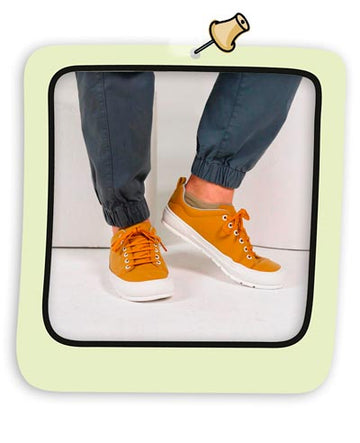 Paterna
€69 - €89
Our best seller Paterna, is also back. A basic, casual trainer for your day-to-day.
They include a highly breathable padded lining that hugs the foot.
Thanks to this lining they can be worn with or without socks .
Choose from a range of models in leather, microfibre with a nubuck finish or in denim.
You might find it difficult to choose from the 10 colours that we have prepared for you. In leather: white, pale pink, mint, moss and black. In microfibre with a nubuck finish: mustard and khaki. In denim: blue, grey and pale pink.
We have designed new insoles for maximum breathability.
Sizes 34 to 46 .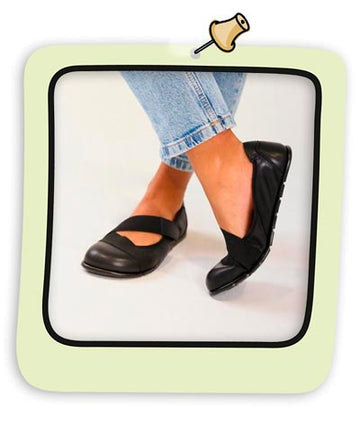 Aitana
€69
Our ballet flats have arrived for the older ones in your family.
Made of leather and with no lining, they keep your feet cool.
Suitable for medium and wide feet. As these shoes have an open fit, they might not suit narrower feet.
The elastic strap across the top of the shoe gives greater support.
Choose from 4 colours : black, pink, mustard and nut.
Traditional removable insoles.
Sizes 34 to 42 .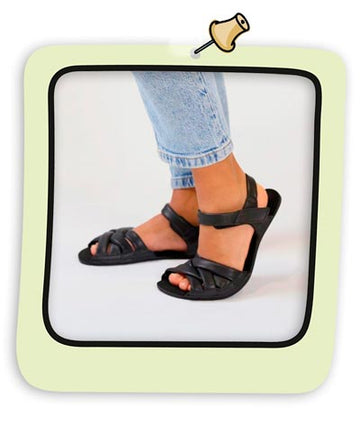 Gandía
€53
Here are our new braided sandals!
Vegan shoes made of microfibre.
They can be cleaned.
The insole has a split leather texture to absorb sweat and stop the feet from slipping.
Elastic regulation system, making it suitable for all types of feet.
5 colours to choose from: white, black, nut, pale pink and khaki.
Sizes 35 to 42 .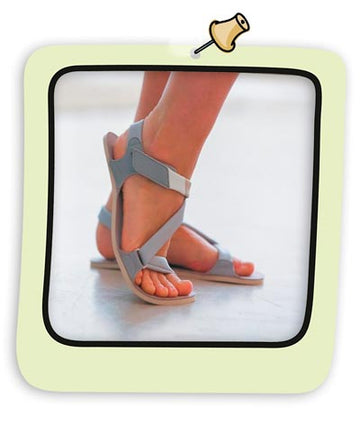 Oliva
€53
Our top minimalist sandals are back!
Vegan sandals made of microfibre.
They can be cleaned.
Suede-textured insole so your feet won't slip and the sweat is absorbed.
Suitable for all types of feet, and this year we have added elastic to the strap to provide greater support, so even more feet can enjoy wearing them.
Choose from our range of 6 colours : black, nut, pale pink, khaki, gray and mint.
Sizes 35 to 42 .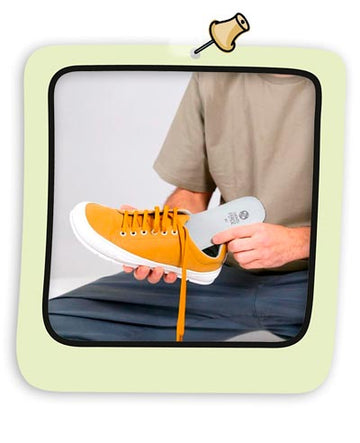 Our insoles offer maximum breathability
€6
Insoles with maximum breathability for the hottest months of the year.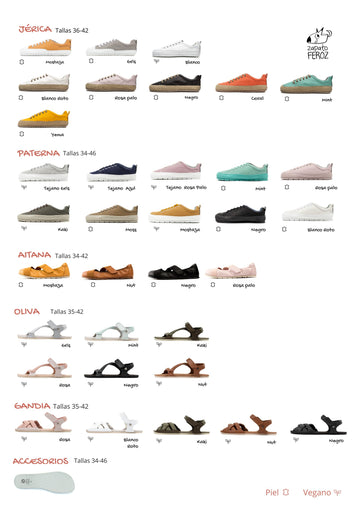 👉 Check out this video in which Lau explains all the news about our latest SS23 adult presale and answers many of your questions. 📺 ⤵️⤵️
Would you like to have the same feeling as your little ones when they wear their FEROZ footwear? 🧠👣👶
After our experience with the second season of minimalist and healthy footwear for adults, we are back with a new presale of adult shoes.
As with all our shoes, we have developed this line with the health of your feet in mind . 🦶💚
Thin, flexible and completely flat sole.
Wide last with room for your toes.
Foot-shaped shoes.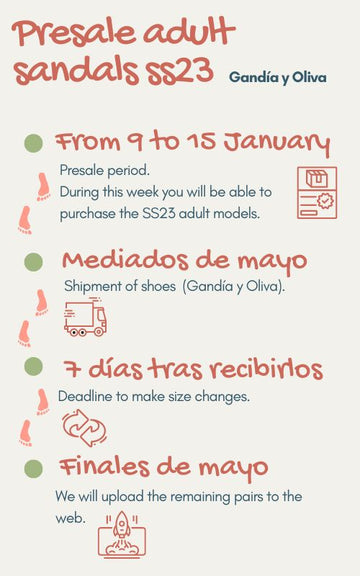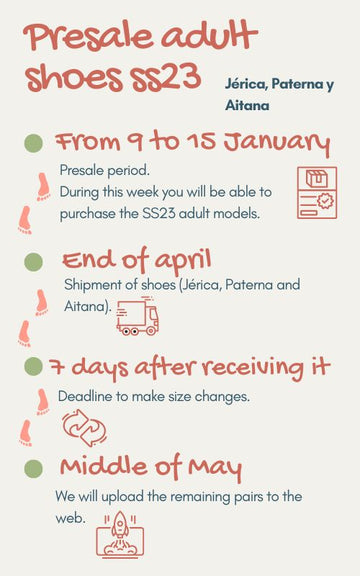 ¿Cómo funciona esto de la preventa? 
Is it like reserving a pair of shoes? 🤷‍♀️

The presale is your chance to reserve shoes from this new adult line for the upcoming SS23 season. You pay for your shoes and we will send them to you at a later date, when they have been made.

📋 Once the presale week is over, we collect all the orders and send the information to our factory in Portugal so that production can begin.

🎁 Shipping costs are free, both to Spain and Europe.

⚠️ One free size change is included if you live in Spain. Size changes will cost €10 for the rest of Europe.

You have 7 calendar days from the moment you receive your presale order to make any size changes.

❌ If you receive your shoes but you don't want to keep them, the return cost is €5 .
Return shipments made from Europe cost €10 .

⌛ To keep you up-to-date with the production of your shoes, we will send you information via email so that you can see their status.
Guía de tallas preventa SS23  
Here is our summary with the measurements of the length and width of the inside of the shoe, as well as our recommendation to choose your size based on the length of your foot (leaving between 7 and 13 mm of space).
It is important that you measure your foot to choose the correct size in the presale. We recommend that you avoid following the size guides of other shoe brands since both the length and width may vary.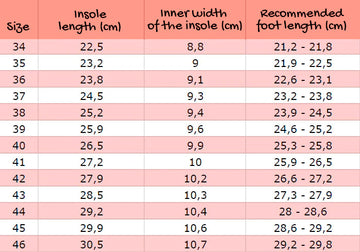 ¿Cómo funciona esto de la preventa? 
WHAT ARE THE ADVANTAGES OF PURCHASING SHOES IN THE PRESALE?
The shipping costs of this presale will be free to everywhere we make shipments.
Our presale allows you to purchase the model you want.
Once all presale orders have been sent and the requested size changes have been made, we will post any available shoes on our website.
WHAT SHOULD I DO IF I MAKE A MISTAKE WHEN PLACING MY PRESALE ORDER?
If you make a mistake when choosing the model, colour or size, you must CANCEL your order and make a new one, always within the same week of the pre-sale.
You can carry out the CANCELLATION process of your order from the ORDERS section of MY ACCOUNT.
Click on the CANCEL button for your order to be cancelled.
The refund of your order will be processed following verification by Zapato Feroz that the cancellation has been validated. This process may take several days.
IF I CHOOSE THE WRONG SIZE, CAN I CHANGE IT?
Yes, you will be able change the shoe size, since we are going to produce a few extra pairs of shoes than the ones ordered in the presale. 😉
You can make 1 size change and it will always be subject to stock availability. Size changes are free if you live in Spain and €10 for the rest of Europe.
IF I LIVE IN THE CANARY ISLANDS, CAN I ACCESS THE SS23 ADULT PRESALE?
Yes, you will be able to access the presale, but directly via our points of sale in the Canary Islands :
WILL I BE ABLE TO PURCHASE INSOLES IN THE PRESALE?
Yes, we have designed some maximum breathability insoles for our presale which you will receive at the same time as the shoes.
CAN MY CHILD WEAR THESE SHOES?
The podiatric characteristics of these minimalist adult shoes are the same as for our kids' footwear, but due to the active life kids have, we ask you to be careful with how they use them.
To give you an example, most of these models do not have a rubber toecap, so they might quickly become worn down if your child plays on the ground, drags the toe or rubs the material while playing.
DO YOU HAVE ANY MORE QUESTIONS?