Adult pre-sale sandals size change SS23
Have you received your SS23 adult pre-sale sandals and you didn't get the size right?
Wow, we know that it is difficult to get the size right when buying shoes without being able to try them on, so we are going to help you so that you can get the size that fits your foot well.
Don't worry (but don't rest on your laurels either) you will have time to manage this size change for the Gandía and Oliva sandals from Thursday, May 18 to Wednesday, May 31 at 11:59 p.m. , so that we can process all size changes as soon as possible and offer the rest of the shoes to our community in the month of June.
⚠️ As we indicate in the pre-sale information, you have 1 free size change, and the size change will be subject to our product availability.
REMEMBER:
🧽 The products and the box must be in perfect condition, clean and unused.
📦 Prepare your package well: we would like to receive it as well as you received it. Do not stick the return label directly on the box or seal it. Ideally, you should use the same cardboard box in which you received your order. If this is not possible, use another box or bag to protect the shipment.
🚀 This time we have tried to speed up the size change process as much as possible, and we will give you the option to select a coupon for the value of the purchase. You will receive it by email a few hours (between 6 and 10) after you have deposited your return, at the Post Office or through its courier. You can use this coupon to purchase the shoe in the correct size.
Steps to follow to make a size change:
1. Put the shoe box inside another box or a bag to protect it (it would be ideal if you used the box in which your order arrived).

2. Starting Thursday, May 18, you will be able to access our returns portal, indicating your order number and zip code.
You can check your pre-sale order number in the information emails we send you and also in the My Account - Order History section of our website. It should be at the end of your list , because you would make it one of the first.

👉 Remember that the pre-sale dates were from January 9 to 16, 2023.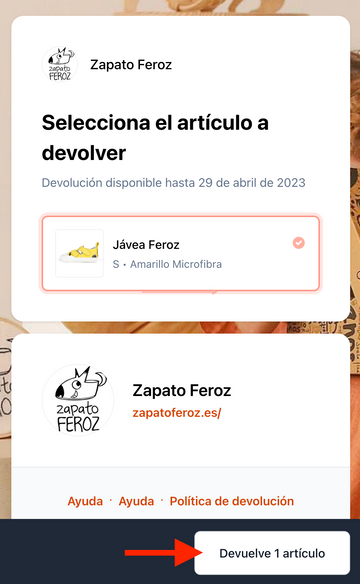 3- Once you enter the returns portal, you will see this screen. Select the model whose size you want to change. You can select as many products to return as there are items in your order.
Once the products have been selected, click on " Return X items"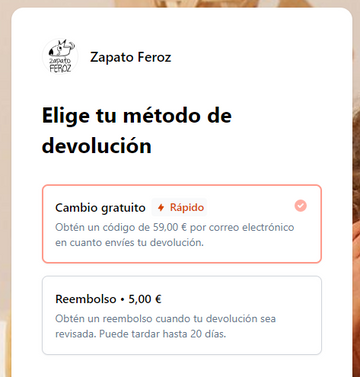 4- Now you can select which option you want for the return:
⚠️ Think carefully about your decision because once selected it cannot be modified.
🎁 FREE EXCHANGE (Gift Card)
Fastest method. When you drop off your package at the post office, you will receive the code for a gift card for the amount of the returned items . This card does not expire and you can use it to purchase items on the website as many times as you want, as long as you have a balance.
➡️ This card is non-refundable due to its economic value.
🪙 REFUND (Money back)
When we receive your package at our facilities, we will refund the amount of the return, less the return costs (€5 in Spain and €10 for international).

5- Confirm the return. Follow the instructions on our returns portal.


6- Send us the shoe. Paste the generated label on the package. If you have made more than one return, stick each label on its corresponding package. Take your package to a Post Office or request a collection at your home, also through Correos.


If you chose FREE EXCHANGE, you will receive in your email a discount code for the value of the product to be returned, once Correos has the package to be returned in its possession. (It may take up to 6-10 hours, we ask for a little patience 🙏).

IMPORTANT: If you have requested a return for an exchange and another for a refund, you must make separate shipments with their respective labels. Otherwise the returns will not be made correctly.

7- Enter our private area, created expressly so that you can buy your shoes again. We sent you the access password in a personalized email on 05/16 with the subject: "SS23 pre-sale sandals ready to ship 🚚 🎉". Check your inbox or your SPAM or JUNK MAIL trays in case it has slipped in there.
8- Enter our private area, created expressly so that you can buy your shoes again
We sent you the access password in a personalized email on 05/16 with the subject: "SS23 pre-sale sandals ready to ship 🚚 🎉". Check your inbox or your SPAM or JUNK MAIL trays in case it has slipped in there.
9-
Make your purchase
of the same model and color, but with the correct size
and use the coupon received
in the corresponding box on the cart screen.
We will review and send your size change.
On
Thursday, June 1
, when the size change period has closed, we will check that your order is correct and we will send you the new size on
Friday, June 2
.
If you have any further questions, consult this page
FAQ's size change
Steps to follow to make a return:


❌ If you end up
not wanting to keep any pre-sale pair
once you have received them, you just have to follow the usual steps to make a return, always through our
returns portal
and select the
Refund option
. The procedure is the same as for a size change, only instead of having a discount coupon,
you will receive a refund of the amount once we receive the shoes in our warehouse.
The time that usually passes between receiving the shoes and the refund is about 5-7 business days.
This return will have an associated cost of €5. Return shipments made from Europe will have a cost of €10.

⚠️ Remember that if you have an incident you must contact our customer service team through our contact form.
Frequently asked questions pre-sale size changes for adults SS23
👉 Where and how do I use the code?
At the top of this page you have everything that works.
🤷‍♀️ Does my code expire?
NO, the code is a gift card with no expiration date that you can use now at the pre-sale exchange, or save to use later on any product in the store.
👉 Can I use the code on multiple orders?
YES, if you use the code on a lower value order, the remaining amount remains accumulated on your card and you can use it later on another order.
👉 Can I request a refund of the code amount once generated?
NO, when you return your order and select the Exchange option, a coupon is generated that can later only be used to make purchases in the store. The amount of this coupon cannot be refunded once issued.
If you're not going to spend it you can always give it away :-)
👉 I've already gone to the post office and I still don't have my discount code.
Yes, we know that immediacy is essential, but keep in mind that there are many processes to synchronize, so your email can take up to 6 hours to reach you.
💶🚛 Do I have to pay shipping costs for my size change?
NO, shipping costs for size changes are free.
👉 Do I have to pay expenses if I want to return the product and not change the size?
As we indicate in the Conditions of Sale and Frequently Asked Questions, returns have a cost of 5 euros (which corresponds to shipping back to our warehouse).

⚠️ The amount of shipping costs for your original order (if any) will also be refunded along with the amount of the returned shoes.

If you need more information you can consult this article in our Help Center.
👉 Can I add other products to my order along with the size change?
NO, we know that this way we would unify shipments, but for logistical reasons we cannot differentiate size changes from new products in the same order.
You must place an order for the size change and a different one for the rest of the products.
👉 Can I make a size change and a return in the same shipment?
NO. In order to make a size change and generate a coupon, we need you to return the pairs you want from your order, with the EXCHANGE option. Thus, once the package has been left at the post office, we can generate the discount code for your new purchase.
If you want to return other shoes, even if they are from the same order, you have to generate a new return with the REFUND option. Once the package is in our facilities we will refund the amount. Remember that the refund has a cost of €5 for Spain.