SCHOOL SHOE AW23 size exchange
Have you received your pre-ordered school shoes and got the size wrong?
Well, we know it can be a bit of a challenge nailing the right size when buying shoes, or that kids' feet shoot up in no time. So, we're here to lend a hand in getting the size that fits their foot a treat.
No worries (but don't dilly-dally either), you'll have time to sort out this school shoe size switch from Monday 21st August until Monday 28th August at 23:59. This way, we can process all size changes lickety-split and offer the rest of the shoes to our community on the 30th of August.
⚠️ Just like we pointed out in the pre-sale info, you've got 1 free size swap for Spain, and the size swap will be subject to product availability.
REMINDER:
🧽 The products and the box should be in pristine condition, clean, and unused.
📦 Prepare your parcel thoughtfully: we'd appreciate receiving it just as well as you did. Please refrain from affixing the return label directly onto the box or sealing it shut. Ideally, make use of the same cardboard box in which you received your order. If this isn't feasible, opt for another box or bag to safeguard the shipment
🚀 This time round, we've gone the extra mile to streamline the size exchange process, and we're offering you the option to pick a gift card for the same value as your purchase. You'll receive it by email within a few hours (between 6 and 10) after you've dropped off your return at the Post Office or through their courier. You can use that card to nab the right-sized shoe.
Just a heads-up that by the 28th of August, you need to have posted your package at the Post Office to get your gift card and make that new purchase with the right size. Make sure to check the Post Office hours and don't leave it till the last minute, or you'll be cutting it close.

Steps to follow for a size exchange:
1. Pop the shoebox into another box or bag for protection (it'd be ideal if you used the box your order arrived in).

2. Starting from Monday 21st August, you can access our returns portal, where you'll need to input your order number and postcode. You can find your pre-order order number in the informative emails we sent you, and also in the 'My Account - Order History' section on our website. Make sure to carefully check the full list of your orders; they're arranged by dates, and if you've made any subsequent ones, they'll be listed after the pre-order.
👉 Don't forget that the pre-order dates were from 29th May to 4th June 2023.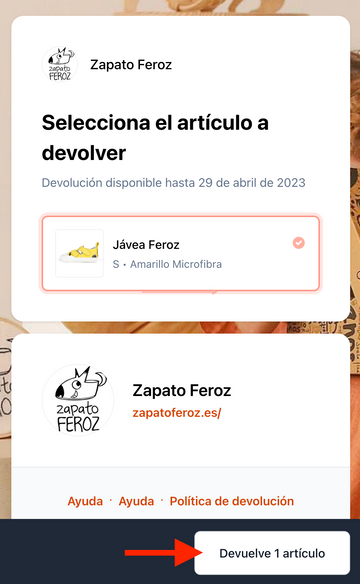 3 - Once you've entered the returns portal, you'll come across this screen. Pick the design of shoes for which you'd like to change the size. Feel free to select as many items to return as there are products in your order.
Once you've made your selections, click on the "Return X items" button.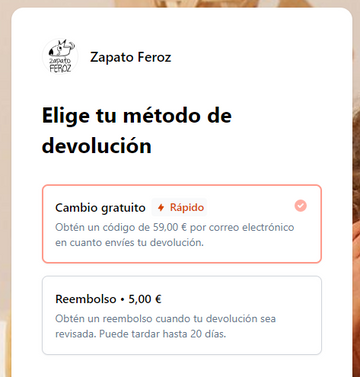 4 - Now you can choose the return option you prefer:
⚠️ Take your time to decide because once selected, it can't be changed.
🎁 FREE EXCHANGE (Gift Card)
Quickest option. When you post your package at the Post Office, you'll receive a gift card code for the value of the returned items. This gift card doesn't expire and you can use it on our website to buy items as many times as you like, as long as there's a balance.
➡️ This gift card isn't refundable for its monetary value.
Once we receive your package at our premises, we'll process a refund for the return amount, deducting the return costs (5€ in Spain and 10€ for international).
This process may take between 5 and 7 working days. If you're choosing this method to change the size, we recommend making a new purchase while we handle the return for the previous pair of shoes.
5 - Confirm the return. Follow the instructions on our returns portal.
6 - Get the shoe to us. Stick the generated label on the package. If you've done more than one return, attach each label to the relevant package. Take your parcel to a Post Office or arrange for a collection from your home, also through the Post Office.
If you opted for the FREE EXCHANGE, you'll get a discount code by email for the product's value once Post Office has the return package. (It might take up to 6-10 hours, we appreciate your patience 🙏).
IMPORTANT: If you wish to initiate a return for size exchange and another return to permanently return a different shoe for a refund (from the same order or different orders), you should make separate requests so that they generate distinct labels. Otherwise, returns won't be processed accurately.

7 - Go to our SCHOOL SHOE EXCHANGE section, set up specially for you to re-purchase your shoes. You should be a registered customer and have made a pre-order purchase. The system will show you the model and colour you initially bought, allowing you to make the purchase again in the correct size 🚚 🎉.
⚠️ THE LINK TO THE SIZE EXCHANGE PAGE WILL BE LIVE FROM MONDAY 21/08 AT 9:00 AM.
8-
Complete your purchase
of the same model and color, but with the correct size,
and use the received gift card
in the designated field on the shopping cart screen.
We'll review your new order and dispatch your size exchange.
If you have any further queries, refer to this page:
Size Exchange FAQs
Steps to follow for making a return:


❌ If you ultimately
don't want to keep any pairs
from the pre-order once you've received them, simply follow the usual steps for a return, always through our
returns portal
, and select the
Refund option
. The process is the same as for a size exchange, except that instead of a discount code,
you'll receive a reimbursement of the amount once we've received the shoes at our warehouse.
The usual time between receiving the shoes and the refund is about 5-7 working days.
This return will have an associated cost of 5€. Returns shipped from Europe will incur a cost of 10€.

⚠️ Remember, if you encounter an issue, please get in touch with our customer support team through our contact form.
Cambio talla preventa escolar AW23
Frequently Asked Questions About Size Exchanges
👉 Where and how do I use the code?
At the top of this page, you'll find all the instructions on how it works.
🤷‍♀️ Does my code expire?
NO, the code is a gift card without an expiry date. You can use it for the pre-order exchange or keep it for future use on any item in the store.
👉 Can I use the code on multiple orders?
YES, if you use the code on an order of lower value, the remaining amount will be stored on your card and you can use it later on another order.
👉 Can I request a refund for the code amount once it's been generated?
NO, once you initiate a return of your order and opt for the Exchange option, a voucher is created. This voucher can only be utilised for making purchases within the store and cannot be refunded once generated.

If you're not going to use it, you can always consider giving it as a gift :-)
👉 I've been to the Post Office, but I still don't have my discount code.
We know that immediacy is essential. But consider that there are multiple processes to coordinate, so it might take up to 6 hours for your email to reach you.
💶🚛 Do I have to pay shipping costs for my size exchange?
NO, the shipping costs for the size change are free if you choose the EXCHANGE option in the returns portal.
👉 Do I need to pay fees if I want to return the product and not exchange it for a different size?
As mentioned in the Sales Terms and Frequently Asked Questions, returns come with a fee of 5 euros (which covers the return shipping to our warehouse).
⚠️ The shipping costs of your original order (if applicable) will also be refunded along with the amount for the returned shoes.

If you need more information, you can consult this article from our Help Center.
👉 Can I add other items to my order along with the size change?
YES, you can place an order for an item for size exchange along with one of the items we currently have for sale.
👉 Can I make a size change and a return in the same shipment?
NO. In order to perform a size change and generate a coupon, you need to initiate a return for the pairs you want to exchange from your order, using the EXCHANGE option. This way, once you've dropped off the package at the Post Office, we can generate the discount code for your new purchase.
If you want to return other shoes, even if they're from the same order, you have to initiate a new return using the REFUND option. Once the package is received at our facilities, we will process a refund for the amount. Remember that the refund incurs a fee of 5€ for Spain.
The size change and the refund return must be in separate packages, each with its appropriate label.